Cayenne Pepper Substitute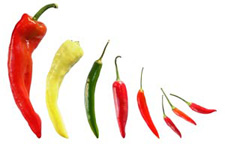 Tips for Using a Cayenne Pepper Substitute
            When the use of the real spice causes an allergic reaction, it is possible to use a cayenne pepper substitute in order to enjoy the spicy flavor in foods.  A substitute may not provide the exact same effect; however, a variety of different spices can enhance the food in such a manner that you will never know the cayenne is missing.
            Cayenne pepper is made from dried chili peppers, which contain a high degree of an element called capsaicin.  This high content is what makes the chili pepper so hot and spicy, and also what lends the vegetable the beneficial medical qualities they possess.  As good as they are, though, some people have reactions when cayenne is consumed.  Most at risk of an allergic reaction are those people who have known allergies to kiwi, chestnuts, bananas, avocado and latex.  There are also some who may not have an allergy to the pepper, but because of certain medications they take should not eat cayenne until after they have consulted their physician.  These drugs include:
·ACE inhibitors, such as Captopril, Enalapril and Lisinopril
·Acid reducers, such as Tagamet, Zantac, Prilosec, Maalox, Pepcid and Tums
·Aspirin
·Blood thinners, such as Warfarin, Heparin, ginko, ginseng and garlic
            For all of these people, those with a cayenne allergy and those who are taking the medications listed above, a cayenne pepper substitute should be used to attain their characteristic heat and spice.  There are a few choices of different spices that can be used that will do an admirable job of replicating the features most loved in cayenne:  heat and a zesty zip that titillates the taste buds.
            Sweet, dried red peppers supply the first substitute.  Dried and then ground into a fine powder, paprika can be used in any recipe calling for cayenne.  Caution must be used, however, in the type of paprika used, as some countries such as Mexico use dried chili peppers when making their paprika.  Hungarian paprika and most common paprikas are from sweet red peppers, which give the spice a sweet, smoky flavor with just a hint of a zesty bite.
            Another spice to consider is chipotle powder.  Chipotles are roasted jalapenos, and powder can be made from the dried varieties.  Smoky, flavorful and delightfully spicy, chipotle can be used as a substitute for any type of dried pepper.  Use sparingly for the first time, as the powder can pack quite a kick.  Until the right amount of chipotle powder for your specific taste is determined, a little dab will do you.
            This next cayenne pepper substitute ingredient is not one recommended for use by allergy sufferers or those taking the above listed medications.  The substance is crushed red pepper flakes, and they are made from dried red chilies just as cayenne is done.  However, when a cook is preparing a recipe that calls for cayenne and finds that the spice cupboard is lacking the powder, crushed red pepper flakes are a perfect substitution.  Equal in heat, these flakes also offer great flavor and ease in adding to a recipe.
            Anytime a cook uses a substitute for any ingredient in a recipe, a gentle hand should be used until the proper amount of the replacement is known for the correct flavor.  Start with just a small amount and then, if possible, taste the mixture.  Never taste raw meat mixtures, as bacteria could be present.  Instead, try to combine all spices together before adding them to the meat mixture.  After adding all spices to a small bowl, use the back of a spoon to crush and infuse the spices together.  Then do a taste test, after which more spices can be added if needed.
            When allergy reactions or drug interaction needs to be considered, a cayenne pepper substitute can ensure that cooks can still achieve great results from their recipes.