Dry Cuticles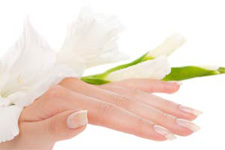 How to Treat Dry Cuticles
Some people always have dry cuticles. Sometimes they are thick and often they are peeling or displaying hangnails, but either way most people find them unattractive. Women are especially embarrassed by ugly looking nails and cuticles. Still, getting your cuticles to look good, short of going to a manicurist, is always a challenge. But if you want to have healthy looking cuticles instead of dry cuticles, there are several things you can do to try and rectify the situation.
If you think that you have dry cuticles because of a skin condition or an injury, you should first seek out the treatment of doctor before trying to remedy the situation yourself. While a manicurist will use those little cuticle nippers, that is not the easiest method if you are treating your dry cuticles yourself. That's because if you are right-handed, you will have to snip the cuticles on your right hand with your left hand and vice-versa if you are left-handed. You could hurt yourself trying to do this by cutting too much of the skin or by getting a raw, sore spot from removing a hangnail too close to the skin.
One of the best ways to treat dry cuticles is to use an exfoliating scrub. These are oil and sugar body scrubs that you can get at any drugstore. With these, you should scrub each nail for a very short period of time, around thirty seconds. Rinse with water and dry. Next, apply some cuticle cream and put on gloves. Cotton gloves are the best and if you can do this procedure right before bedtime you can wear the gloves while you sleep. This really gives the cream time to work. When you wake up, you can apply a hand moisturizer with aloe for the day.
If you consistently treat your dry cuticles in the manner, they will be moisturized and healed in no time at all. The problem is that you most likely will have dry cuticles return because the cause is usually a poor diet resulting in a lack of vitamins. A change of diet and lifestyle is going to be in order. You will need to increase the number of fruits and vegetables which you eat and it won't hurt to start taking a daily multi-vitamin. The biggest cause of dry cuticles is a lack of vitamin C. Increasing the amount of antioxidants you eat will also help, and these can be found in lots of fruits and vegetables.
In addition to eating well and getting enough vitamins and minerals, exercise can be good for cuticles as well. It increases blood flow, helping circulation and opens up the body's own moisturizing capabilities. You should also increase your intake of fatty acids, especially those from fish. Drinking lots of water every day will help your body stay hydrated which is really good for healthy skin.
Not only should you increase the amount of vitamin C you ingest each day, but you should make sure you are getting enough of vitamin A, E and your B-complex vitamins as well. Dark green leafy vegetables are also excellent additions to a healthy diet. In addition to improving your diet, regular use of skin moisturizers is helpful for cuticle maintenance.
Some people are very concerned about having dry cuticles and others pay no attention to their cuticles at all. Many people spend wads of money going to manicurists or spas for all kinds of body treatments. By following the instructions in this article you can heal any problem cuticles and keep them looking good by changing your diet. Soon, people will be telling you what great looking hands you have!