Identifying Insect Bites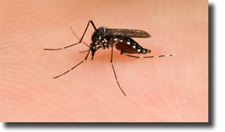 Important Facts to Know about Identifying Insect Bites
When you or your child has been bitten, identifying insect bites can really be a lifesaver.  Knowing whether a bite is serious enough to warrant a doctor's visit or trip to the emergency room can mean the difference between life and death.  The following is a list of insects and a description of what the bite will look like.
Ticks.  When a tick bites, it attaches itself to the host to draw out blood.  Therefore, when a tick bite is fresh, it is very easy to identify, as the tick is attached to the wound site.  After the tick dislodges, you may experience redness, swelling, pain, and itchiness at the site of the bite.  It also has a bull's eye appearance, with a white mark directly in the center of the red area where the tick bit.  Tick bites should be monitored carefully for changes, as ticks can transmit Lyme Disease and Rocky Mountain Spotted Fever amongst others.


Spider Bites.  Redness, swelling, itching, and pain also may indicate a spider bite.  You should consult a physician if the bite area continues to worsen over a period of 24 hours or if it has a bull's eye appearance, much like the tick bites.  A couple of notable types of very venomous spiders will be examined in further detail.


Brown Recluse Spider.  The brown recluse has gained notoriety over the past ten years or so.  The venom of the brown recluse spider is extremely powerful, even more toxic than that of a rattlesnake.  Once bitten by a brown recluse, the venom will work to destroy the surrounding skin and fat cells.  The skin will turn black as the tissue dies.  The bite itself is not painful, but pain at the site of the bite will begin after approximately 2 to 8 hours.  A small, white blister will form around the bite site, and hard, blue or white discolored skin is indicative of a brown recluse bite.  The skin may also become rough in texture and sink down, which indicates that the tissue is dying below the skin. Identifying insect bites in this case can be critical, as a physician must be consulted if you are bitten by a brown recluse. 




Black Widow Spider.  The best known and most feared of all of the spiders in North America, the black widow spider is also the most venomous.  It is recognizable by the distinct red hourglass pattern on its abdomen.  Again, the bite site will appear as a bull's eye, with a pale area surrounded by a red ring.  With a black widow bite, there is little reaction at the actual bite site, though.  The black widow releases a neurotoxin that affects the central nervous system of the victim.  If muscle cramps develop after a bite, it is possible that it is a black widow bite, and you should go to the nearest hospital.  The hype associated with black widow spider bites is somewhat overstated, though, as there has not been a death resulting from a black widow bite in the United States in the past ten years.  Often, patients are simply monitored, and antivenin is rarely required.


Fleas.  Identifying insect bites that are nuisance bites is important as well, to rule out an unnecessary trip to the doctor and to determine how to prevent them in the future.  Flea bites most often occur in a group, and each is a small red mark without a distinct center point.  Fleas in your home need to be dealt with, or the flea bites will continue.  A professional exterminator can be called, or you can try an over the counter pesticide designed for home use.  Many of these can be found in home improvement or pet stores.


Mosquitos.  Mosquito bites are very common throughout the United States.  They can carry diseases such as West Nile Virus or Malaria, but these are extremely rare.  Mosquito bites appear as small, raised red bumps that are extremely itchy.