Benefits Of Watermelon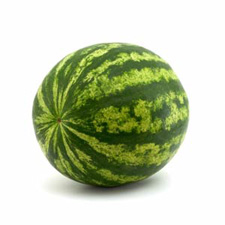 Top Five Benefits of Watermelon

The benefits of watermelon extend beyond the simple health benefits. What could taste better on a hot summer day than a slice of cold, juicy watermelon?  It quenches your thirst and gives you a burst of something sweet without making you blow your plans for healthy eating.


It is one of the fruits that even the most finicky children will happily gobble up.  While at its most fresh and sweet in the summer months, watermelon is available year round in some locations.  For all of its goodness, there are many benefits of watermelon that make it a wise choice for a summer  - or any – day.


Here are a few of the health benefits provided by this sweet, juicy fruit.

Antioxidants

A diet rich in antioxidants can help you fight off illness and protect your body from the damage that can be done by free radicals. Watermelons are loaded with the antioxidant called lycopene, which is also found in tomatoes.  Studies have found that lycopene can protect against certain cancers.

Antioxidants can benefit the body in other ways as well, including reducing cell damage and preventing some of the signs of aging.


Vitamin C

Among the benefits of watermelon is the fact that it is loaded with Vitamin C.  Just one cup of watermelon contains nearly 25% of the daily recommended amount of Vitamin C.

Not only can vitamin C protect against common colds, but people who regularly get enough of the vitamin in their diets may also be at a lower risk for heart disease and stroke.

Increased Energy

In addition to being rich in Vitamin C, watermelon also contains Vitamin B.  Certain B vitamins are vital in the quest for more energy.

There are other benefits of watermelon that have nothing to do with the health related benefits. Here are just a few.

Easy to Store

Because uncut watermelons do not need to be refrigerated, they are very easy to store. They can last several days on a counter until you are ready to enjoy it.


Great for Parties


No summer party is complete without watermelon. Whether diced and used in a yummy fruit salad or served on its own at a backyard barbeque. Watermelon is an easy addition to a party menu.

You can make it even more festive by carving a basket out of the watermelon. This is very easy to do and requires no special skills or tools. Once the basket is created, you can fill it with chunks of watermelon and other fruit. This makes a fun and festive display that can serve as the centerpiece of the buffet and an outdoor party.

Can Serve Quickly

Watermelon is a great snack that you can prepare in minutes. Keep on one hand for when unexpected company drops by or for when the kids need a quick and nutritious afternoon snack.

The benefits of watermelon are many.  Of course, the most important benefits to many people is how delicious watermelons taste. They are a guilty pleasure with all of the pleasure and none of the guilt!