Pineapple Allergy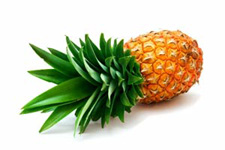 Interesting Facts about a Pineapple Allergy
While most people know all about food allergies, most are surprised to learn that a person can have a pineapple allergy.  With this, not only would a person experience some type of adverse reaction from eating fresh pineapple but any food with this ingredient.  The type and degree of symptoms for this type of allergy depend on the individual, meaning some people have only slight problems while others can become very ill. 
The most common symptoms associated with this food allergy include:
Runny nose, as well as sore, itchy, watering, or red eyes, which may seem more like a cold at first but if the symptoms were to worsen or persist after eating this fruit, a pineapple allergy might be the cause.
Skin rash is another reaction to a pineapple allergy, which is usually seen as light pink spots that itch.  In some instances, the person would also develop swelling and/or hives.
Vomiting and/or diarrhea are often associated with food allergies, which is the body's natural method for eliminating dangerous toxins.  Some people with a pineapple allergy will go through a bout of vomiting and/or diarrhea but if it worsens or continues, a concern of becoming dehydrated is raised.



Constipation is another response to a food allergy, which is the body's digestive system having trouble eliminating waste.  Usually, the problem will go away on its own within a few days and as long as this happens, the discomfort is okay but if constipation continues longer than three days or it is accompanied by other symptoms, a doctor should be seen.
Difficulty breathing is a more serious concern.  What happens is that sometimes, a food allergy will cause the throat to swell.  If it becomes too swollen, the person cannot breath, which is then a life and death situation.
Anaphylaxis – Of all responses to a pineapple allergy, this is the worst in that the entire body is responding.  With this, the face, ears, and throat would swell quickly and without immediate medical intervention, the individual is at serious risk of death.
Again, depending on the individual, a pineapple allergy could produce serious reaction.  For instance, an individual suffering from a severe response might go into anaphylactic shock, perhaps become unconscious, and even face death.  The biggest challenge is that sometimes, a person will be given a wrong diagnosis.  Therefore, it would not be until this fruit was eaten and a reaction occurs that a problem would be known.
The more common types of food allergies are those associated with seafood and nuts, but more and more, fruits are proving to be toxic for some individuals.  The person with a pineapple allergy may show signs of an allergic response immediately, or it could take four to six days to appear.  Of course, an immediate reaction would require urgent intervention, even to the point of calling 911 whereas someone with a delayed response may merely need to be seen by the family doctor.